This is a three part post, first review of actual published studies, second review of probiotic suggested by published studies on microbiome shifts with autism, third review of probiotics created from a composite off all autism-tag microbiome on my site.
"Probiotics have been thought to alleviate the progression of autism and reduce cognitive and behavioural deficits." [2020 Study]
1-Published Studies
I restricted to actual human studies. Many of these studies appear to be sponsored or assisted by product manufacturers.
Conclusion: galactooligosaccharide supplements, 36 BCFU/day of Lactobacillus Probiotics (No Bifidobacterium — ASD is often high/very high in them). LGG has not been demonstrated to help after ASD occurs, just before (risk reduction).
2-Published studies on microbiome shifts
This data comes from MicrobiomePrescription site, A Priori Adjustment page
Given the goal of 36 BCFU per day, the best cost option would likely be CustomProbiotics that sells these in pure bulk form powder.

L. Gasseri US$ 120 for 50gm or 500 servings of 20 BCFU.


$240 for 250 days of dosages, or a dollar a day.
I have no financial interest in Custom Probiotics – and I often order from them
3-Composite using all autism-tag microbiomes
This is done by using the average value from 90+ microbiome samples marked with an official diagnosis of autism. This composite is in the Demo Login (so you can explore it in other ways).

Running several different scenarios on this composite
I first did a hand picked against Autism and ended up with:
There is a list of probiotics to avoid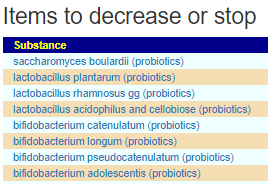 Playing around (lots of choices), the only significant one to add was lactobacillus kefiri (NOT KEFIR) – which is unfortunately only available in Italy.
Bottom Line
The short of the above is a daily dosage of at least 36 BCfu of Lactobacillus species with L.Reuteri and L.Gasseri being the strongest choices. L. Kefiri if you happen to know someone in Italy. lactobacillus paracasei (probiotics) showed off frequently in some scenarios.
REMEMBER:
Any addition of probiotics should be reviewed by your physician, the above is "academic" and "educational"
Start off with a small dosage and slowly increase to the goal
Do not be surprised if: (and cited in some studies reviewed)

Diarrhea happens for a few days – it is dislodging some nasty customers
Die-off or Herxheimer effect –
I was personally hoping for better clarity / course of action when I started this post then when I am closing it. If your MD gives the go ahead, please post a report as a comment every 2 weeks for the benefits of others.