This is a continuing series of blogs looking at OATS results and autism. The goal is to filter out items that are relevant to autism. The series is not intended to do a full explanation of the OATS test. The OATS test is not autism specific but general health (often IBS/FM/CFS focuses).
Remember that our knowledge is constantly changing (unfortunately most MDs knowledge of the literature is stale). In going thru the literature, remember what is reported is the result of a group and may not apply to a specific child with autism. Each child has difference symptoms and thus different microbiome dysfunction.
The purpose of the literature review is to identify items that are recognized as autism associated and to know what to follow up on with your medical professional.
This article, A Metabolomics Approach to Screening for Autism Risk in the Children's Autism Metabolome Project [2020] is worth a read.
Panel A

Glyceric
Nothing found
Glycolic
A low value is seen here and in disagreement with the literature
Oxalate
A high value is seen here and in agreement with the literature
Lactic
Appears to be connected to anxiety. High levels are associated with brain fog and loss of executive function with other conditions. Child is high.
Pyruvic
Child is upward trending. The literature refers to the ratio being high, and in this case, the ratio appears to high. An appropriate goal would be to reduce lactic acid.
Panel B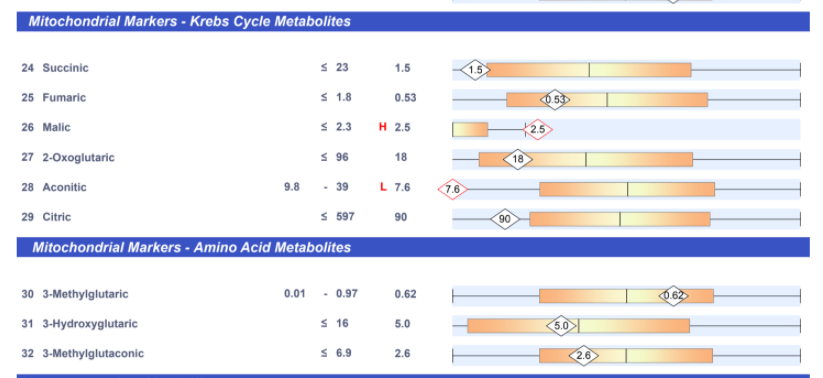 Succinic
We see low values, the literature reveal that this may be connected to some SNPs in some.
Fumaric
Skipping – not abnormal and nothing clear in the literature.
Malic
This person is high. Nothing found in the literature.
2-Oxoglutaric
This person is slightly low.
This lead to a single study from [2011]: "Significant differences were found between the autistic children and the control group in organic acids: 2-oxoglutaric, isocitric, citric, 4-hydroxybenzoic, 4-hydroxyphenylacetic, hippuric, adipic, suberic (all with p<0.05)."
There was also "The ASD group had higher levels of phenylactic acid but decreased amounts of aconitic acid, phosphoric acid, 3-oxoglutaric acid, and carboxycitric acid compared to TD children. " [2019]
Aconitic
This person is low.
This was also found low in the last study "decreased amounts of aconitic acid" [2019] and contrary results in " Interactions among diet, intestinal flora and genes may explain such findings… Other metabolites increased are 3,4-dihydroxybutyric acid, glycolic acid and glycine, cis-aconitic acid; phenylalanine, tyrosine, p-hydroxyphenylacetic acid, and homovanillic acid are all involved in the tyrosine pathway leading to neurotransmitter cathecolamine." [2014]
Citric
This person is slightly low.
"Three of 7 patients demonstrated abnormalities in citric acid metabolites, bacterial metabolism, and fatty acid oxidation markers. " [2015] This implies abnormalities may only occur in a subset.
3-Methylglutaric
This person is slightly elevated.
" Metabolomic analysis of urinary organic acids revealed that three metabolites, 3-hydroxy-3-methylglutaric acid (P = 0.008), 3-methyglutaconic acid (P = 0.018), and ethylmalonic acid (P = 0.043) were significantly elevated in individuals with ASD." [2020]
3-Hydroxyglutaric
Nothing found in the literature. Person is in normal range.
3-Methylglutaconic
Nothing found in the literature. Person is in normal range.
Bottom Line
We have done another section of the OATS report. Correcting by diet or drugs some of these shifts is another level of analysis; one that too-often there is little information on.
One known example: Pyruvic-Lactate ratio can be addressed by reducing the amount of lactic acid (i.e. no Lactobacillus probiotics, reducing food that produce lactic acid – milk, yogurt). It may also require 16s microbiome tests to determine which lactate producing bacteria are present (list here)