The same reader also included Doctor's Data Comprehensive Stool Analysis / Parasitology x3. The results are below, and what I would expect to be common: Nothing detected. Toxoplasmosis plays an important role as a risk factor for autism, but not once autism is established [2020].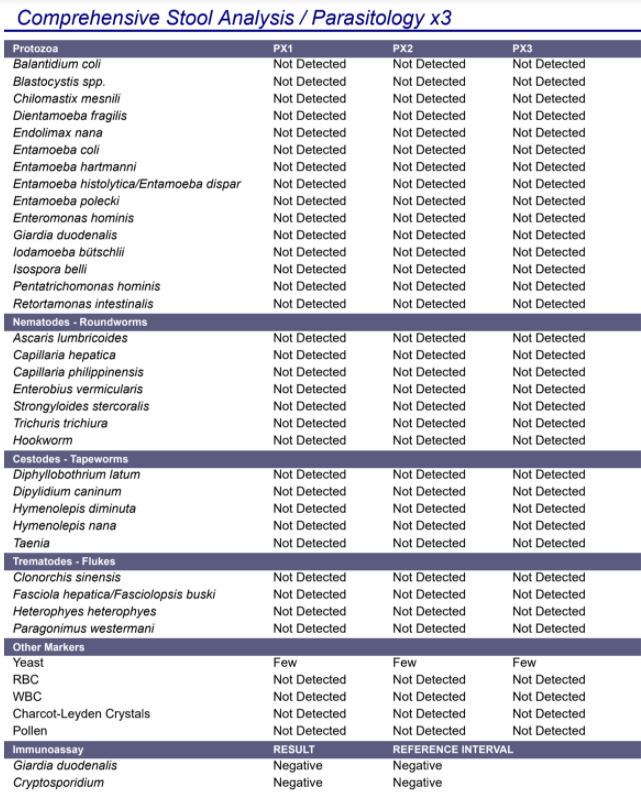 The test also reported on possible high Saccharomyces boulardii/cerevisiae, Klebsiella pneumoniae, and Proteus mirabilis.
"Saccharomyces and Aspergillus showed significant differences between ASD (59.07%) and Control (40.36%), indicating that they may be involved in the abnormal gut fungal community structure of ASD. When analyzed at the species level, a decreased abundance in Aspergillus versicolor was observed while Saccharomyces cerevisiae was increased in children with ASD relative to controls. " [2020]

 Aspergillus oryzae is the only Aspergillus that I know that is available as a probiotic (Strong Wakamoto W)

Neither klebsiella pneumoniae nor Proteus mirabilis are reported in the literature as being significant for autism.
Declaration: I have little trust in the cfu/gram for detecting microbiome dysfunction. It is old school.
Bottom Line
Using this test for a child with autism is unlikely to produce productive results for most cases of autism. A 16s microbiome test (for example Biome Sight with "MICRO" as discount code or Thryve Inside) would produce better information from newer technology at significantly less cost.